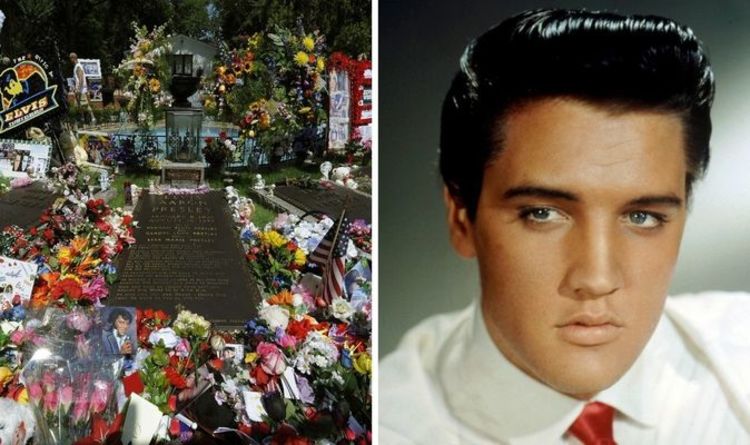 Elvis Presley death: Is Elvis Presley buried at Graceland?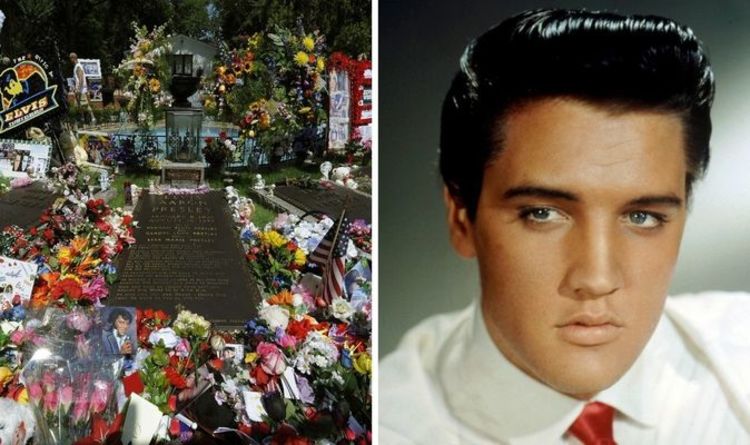 Elvis Presley did nothing by halves and gave everything he had to his performances on the stage. His death came as quite a shock, but his fans would never want him to go out without a bang. His funeral was elaborate, as have been many tributes afterwards – but where was Elvis buried?
Is Elvis Presley buried at Graceland?
Elvis Presley is, in fact, buried on the Graceland estate, where the singer famously lived.
Not only was Elvis buried there, but also several other family members including his grandson Benjamin Storm Presley Keough, along with Elvis' mother Gladys, father Vernon and grandmother Minnie Mae.
The place where their graves are laid is in the Meditation Garden at Graceland, where they each have a large tombstone surrounded by flowers, with a small pond in the middle of the yard.
READ MORE: Spider-Man Into the Spider-Verse: Is animated Marvel movie on Netflix?
Elvis's death was shrouded in mystery for a long time, with conspiracy theories abounding about how he died.
His girlfriend at the time, Ginger Alden, spoke in 2014 about her time with Elvis in her autobiography, in which she also described the horrific circumstances in which she found him.
She said: "Elvis looked as if his entire body had completely frozen in a seated position while using the commode and then had fallen forward, in that fixed position, directly in front of it…
"It was clear that, from the time whatever hit him to the moment he had landed on the floor, Elvis hadn't moved."
Others, including the Daily Express' Brian Vine, said he died in hospital, with the Express' front page story reading: "Elvis Presley, the King of Rock, died in hospital last night after being taken ill at his home.
"The 42-year-old star was found unconscious at his Graceland mansion in Memphis, Tennessee.
"He was driven to the Baptist Hospital in a fire brigade ambulance and doctors fought for 30 minutes in a vain attempt to save him…
"Detectives from Memphis police department are investigating the 'strong possibility that death was a result of an overdose of drugs'."
DON'T MISS
Having said all of this, other details later come to the fore, with some suggesting he had severe constipation due to ingesting a huge number of pills.
Many have, in their telling of how Elvis died, referenced severe health problems he developed long before his death in August 1977.
Initially, the coroner released the statement that Elvis had died of "cardiac arrest," with others later claiming the various health issues he had, such as an enlarged heart and lung problems could have added to this.
After various reports, the cardiac incident has been named the cause of death, though it is widely considered to be the case that Elvis' drug use and other health conditions contributed to the incident.
His funeral was held on Thursday, August 18, days after his death, and about 80,000 people lined the processional route to Forest Hill Cemetery, where he was buried next to his mother.
There was more tragedy to strike at the event, as, according to Robert Matthew-Walker's book Elvis Presley. A Study in Music, two people were killed when a car ploughed those outside Graceland.
As well as this, according to Peter Guralnick's book Careless Love: The Unmaking of Elvis Presley, people attempted to steal Elvis's body, which meant it was reburied within the grounds of Graceland, at the Meditation Garden, at the beginning of October.
But now, Elvis is at rest alongside some of his family members in his home of Graceland.
Published at Fri, 06 Nov 2020 09:21:53 +0000