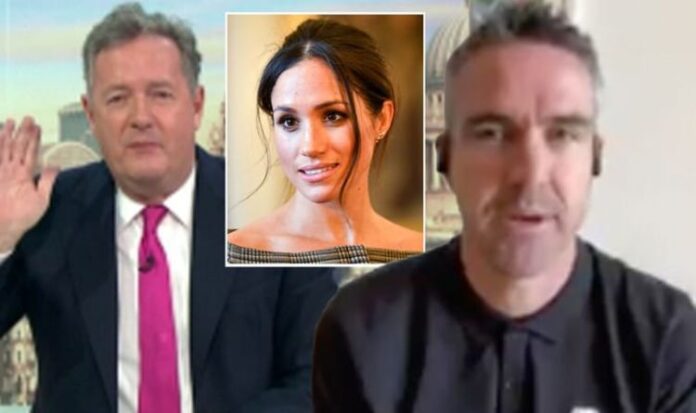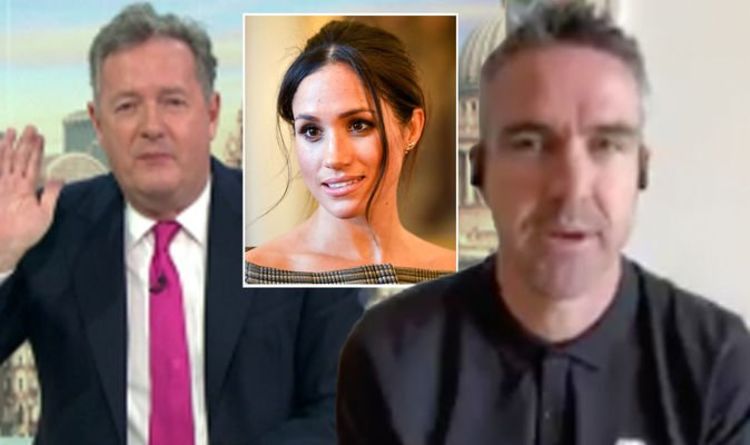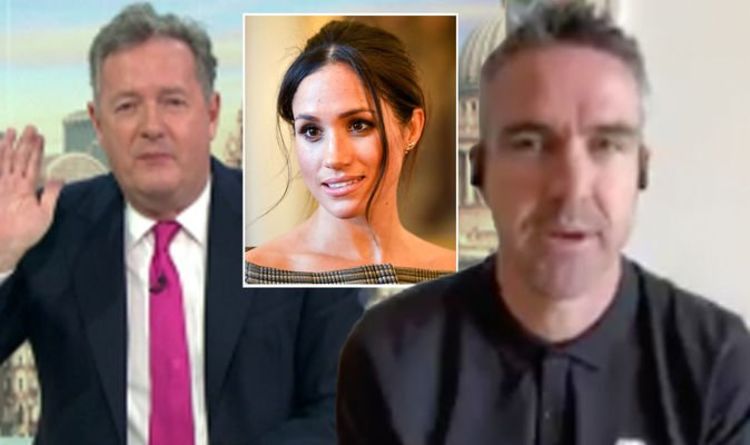 As Piers Morgan and Susanna Reid welcomed Kevin onto Good Morning Britain, he wasted no time in jumping in and defending the Duke and Duchess of Sussex. Kevin explained he was glad his interview followed a debate about accusations of bullying made against Meghan Markle as it gave him a chance to blast the controversial presenter for his comments about the couple.
Kicking off the interview, Kevin said: "Good morning, good morning I'm so glad I followed on from Harry and Meghan can you just leave them alone Piers you're doing everyone's head in."
"With respect," Piers interrupted. "What part of them giving endless primetime interviews means they want to be left alone?"
"You know how to deal with it, leave them alone. Just leave them alone if that's what they want, that's what they want," Kevin hit back.
"If you don't want to talk about them don't bring them up," Piers remarked.
READ MORE: Piers hits out at Sturgeon's 'severe memory loss' amid Salmond inquiry
"Leave them alone," the England cricketer exclaimed and the GMB host hit back: "They don't want to be left alone, they're doing primetime interviews."
"Leave them alone," Kevin repeated and Piers argued: "They don't want to be left alone."
"How are we still talking about them?" Susanna asked.
"It's beautiful here, Susanna absolutely gorgeous," the cricketer added.
Earlier in the show, Andrew Neil had sided with Piers, insisting he would not be watching Harry and Meghan's interview with Oprah Winfrey.
The broadcaster explained: "I must confess I found it difficult to get across the detail of Nicola Sturgeon's problems and Meghan and Harry.
"I understand this couple want privacy and what I have decided to do is respect that.
"They want their privacy and so Mr and Mrs Markle of Montecito, California, I will treat with the same privacy of every other couple."
"Will you be watching the interview then Andrew?" Susanna asked.
Andrew hit back: "I will not be watching the interview and I don't want to hear from them ever again.
"The more they fade into oblivion, the happier we'll all be."
The interview will air on CBS on Sunday before ITV broadcast the full two hour chat on Monday evening in the UK.
So far there have only been two very short teasers from the interview which have been released.
Meghan is yet to be seen talking to Oprah with Harry taking the lead in the clips which have been shared.
In the first, he tells Oprah: "I'm just really relieved and happy to be sitting here talking to you with my wife by my side."
He compared their decision to leave their role as senior working royals to his mother's experience.
"My biggest concern was history repeating itself," he added.
Good Morning Britain airs weekdays on ITV at 6am.
Published at Wed, 03 Mar 2021 09:16:00 +0000
'Leave them alone!' Kevin Pietersen shock outburst at Piers 'doing his head in' on Meghan