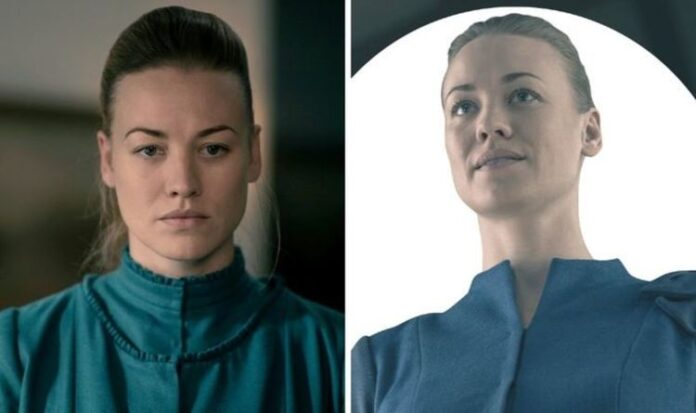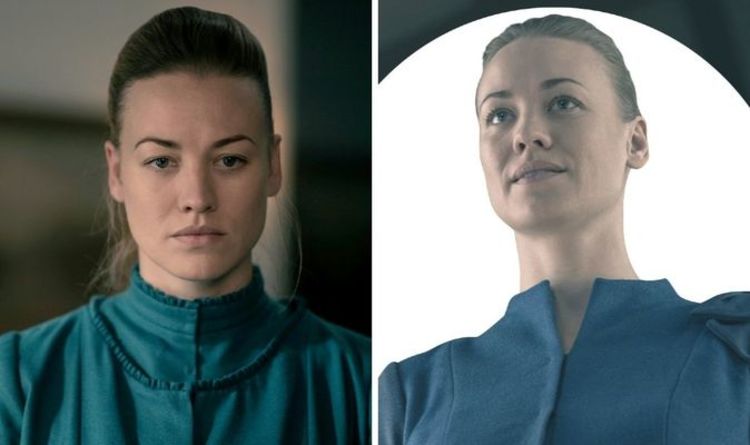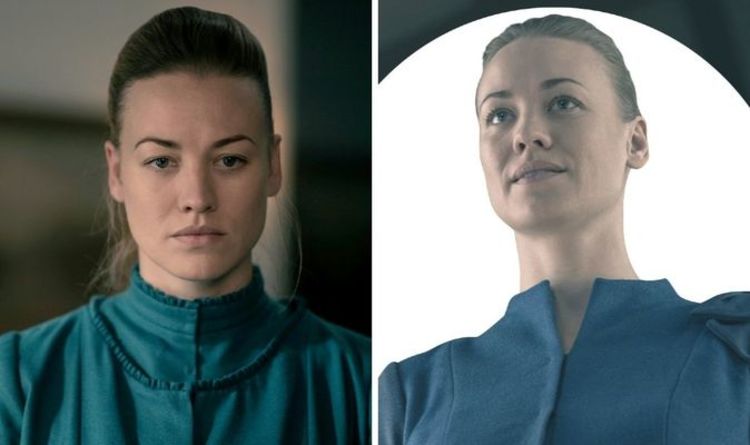 The fourth season of Hulu's wildly successful drama The Handmaid's Tale is finally returning to screens in April. With a new trailer teasing the most action-packed instalment yet, some insightful viewers may have already exposed some of the show's most well-kept secrets.
Fans of The Handmaid's Tale are convinced Serena Joy Waterford (played by Yvonne Strahovski) will be revealed to be pregnant in the upcoming fourth season.
Serena Joy and her husband, Commander Fred Waterford (Joseph Fiennes), were last seen detained in Canada at the end of season three, back in 2019.
They were unknowingly lured across the border by Mark Tuello (Sam Jaeger), a minor character who is set to play a much bigger role when the series returns next month.
Ahead of the release of a new trailer for season four, one viewer took to Reddit after spotting a symbolic clue in the episode 'Liars'.
READ MORE: The Handmaid's Tale UK: Can you watch Hulu in the UK?
Redditor kweerhawk posted: "I think I've figured out season four. Spoilers ahoy.
"S3E11. Serena slept with Fred at Tuello's friends house en route – unbeknownst to Fred – to the Canadian border."
Tuello contacts the Waterfords under false pretenses, promising to reunite them with Nichole, the biological daughter of June Osbourne (Elisabeth Moss) and Nick Blaine (Max Minghella).
However, when they make the journey to meet Tuello, he manages to lead them across the Canadian border, whereupon they are arrested for their war crimes in Gilead.
"Despite their crimes, in a post-fertility crisis ridden world, separating a mother from a child is a massive moral/politically charged/religiously insensitive PR nightmare."
As The Handmaid's Tale is set in a dystopian near future where fertility rates have plummeted, all pregnancies are seen as sacred by the oppressive state of Gilead.
Therefore, maintaining the safety of Serena's future child could guarantee the Waterfords safe passage back across the border, despite their heinous crimes against June.
Finally, the Redditor explained: "Remember that Gilead would look weak if the Waterfords were tried and kept as prisoners. They need the Waterfords back to maintain status quo."
In the comments, another viewer agreed and replied: "Serena is totally pregnant in that shot."
This theory was posted some days before the new teaser trailer was finally released on YouTube, giving fans a much better sense of what to expect from season four.
As both Serena and Fred are conspicuously absent from the new footage, this fan's detailed speculation could be right on the money come season four's highly anticipated premiere.
The Handmaid's Tale season 4 premieres in April on Hulu.
Published at Thu, 04 Mar 2021 03:39:51 +0000
The Handmaid's Tale season 4: Serena Joy 'pregnant' as fans spot major clue