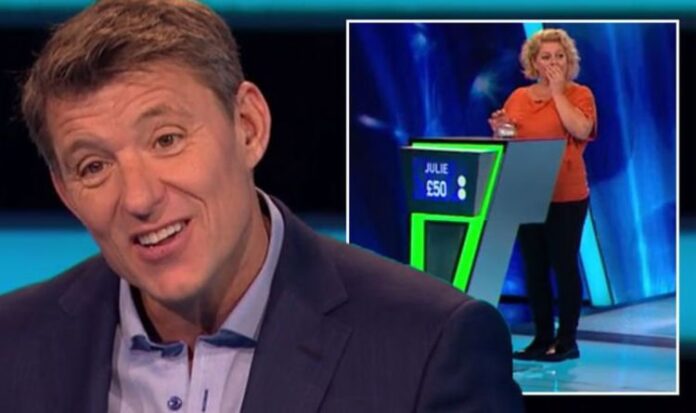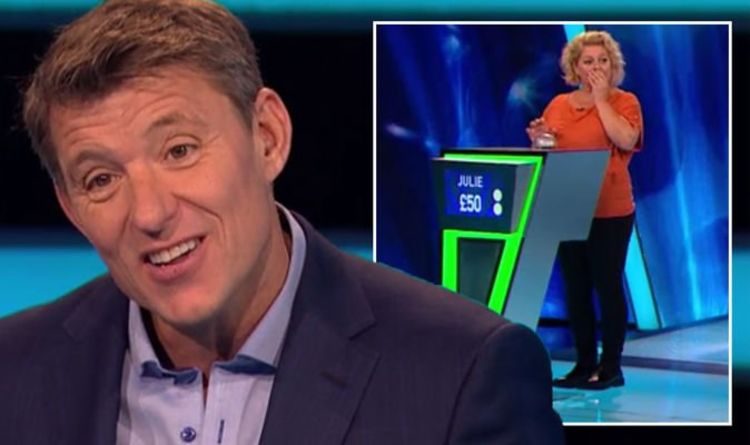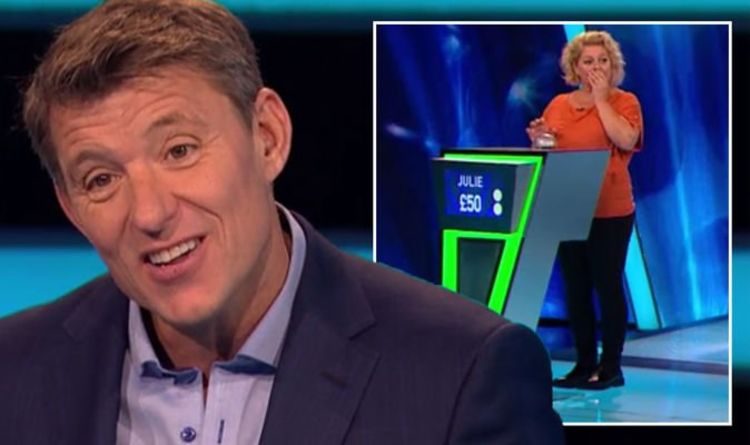 Emma, Dan, Adam and Julie were the four budding quizzers joining Ben Shephard in the Tipping Point studio on Thursday, all hoping their general knowledge skills would land them some big money. With £10,000 up for grabs, the opening round saw each ITV contestant battle it out to answer questions quicker than the rest and pop some counters into the famous machine in return for cash. However, player Julie ended up apologising to the Good Morning Britain star when she jumped the gun.
In the first round of Thursday's Tipping Point, it was player Dan who stormed out of the blocks into an early lead.
This left the likes of Julie, Adam and Emma with some catching up to do to try and guarantee themselves a spot in round two.
And keen to make up some ground, Julia buzzed in quick as a flash when Ben began the question: "The 1865 Lewis Carroll novel, Alice's Adventures in Wonderland…"
However, she quickly rued the decision as she realised she didn't have an answer up her sleeve.
READ MORE: Tipping Point finalist breaks down in tears after 'cruel' final round
Holding her hands to her face, Julie realised her error and apologised to Ben: "Sorry!
"I pressed too soon," she added but the apology was little consolation as Ben took a counter away and added it to the penalty pot.
The mistake ultimately led to Julie's exit from the competition as she failed to retrieve it from the penalty pot after Ben's last question of the round.
Instead, it was leader of the pack Dan who swooped in to claim Julie's lost counter and added some more cash to his already large prize fund.
And not letting the moment slide, Ben was quick to tease Adam on his slip-up which ultimately led to him following in Julie's footsteps.
Heading into the head to head, Dan and his £2,150 then faced off against Emma and her £1,350 prize pot.
Dan's fine form continued as he made it to the final with £2,700 against Emma's £1,600.
However, Dan's luck ran out in the last round, dropping the jackpot counter into the machine only for it to fall as a "rider".
He'd need a miracle to therefore knock the jackpot off the top shelf, which wasn't helped by a number of incorrect answers.
In the end, Dan decided to take home the £3,400 he'd earned as the jackpot counter remained on the top shelf.
And it, of course, proved the right decision as three extra counters Ben provided to see what would've happened didn't knock the counter off the edge.
Tipping Point continues weekdays at 4pm on ITV.
Published at Thu, 13 May 2021 16:26:20 +0000
Tipping Point: ITV player apologises to Ben Shephard as costly mistake ends in early exit