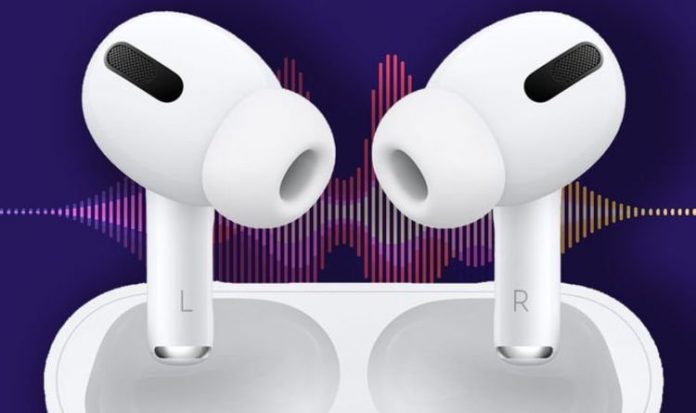 If you're looking for some noise-cancelling wireless earbuds to connect seamlessly with your iPhone, iPad or Mac, you won't find much better than Apple's AirPods Pro. These mini music-makers offer great sound, solid battery life, quick connection to all of your Apple gadgets, plus they block out almost all background noise for an uninterrupted music experience.
When Apple first launched the AirPods Pro back in 2019 they would have set you back over £240 but that's all changed with retailers including Amazon slashing the cost of these premium earbuds.
This makes it a great time to invest with prices now starting from just £187 – that's a whipping £50 saving!
YOU CAN SEE AMAZON'S AIRPODS DEALS HERE
So, that's the good news about the current-generation of AirPods Pro out of the way, but there is a reason to be cautious before splashing out on a pair. That's because rumours are rife that Apple is poised to fully refresh its flagship earbuds later this year, with the 'buds set for an upgrade that will bring improved sound and some bonus features.
The latest murmurs about the AirPods come courtesy of top analyst Ming-Chi Kuo, via 9to5mac, who has a proven track record of getting upcoming Apple launches correct.
Kuo says that the biggest upgrade to the AirPods Pro will add support for the Apple Lossless (ALAC) format in Apple Music. This technology offers superior audio as it preserves all of the original data within the track. Files that are sent across a standard Bluetooth connection – something the current AirPods rely on to transmit audio without wires – need to be heavily compressed, destroying some of the quality of the recording. Lossless audio is included at no extra cost for Apple Music subscribers, but there's currently no way to enjoy the format with any of Apple's best-selling accessories.
It's thought that Apple has now come up with a way of beaming high resolution music to its next-generation earbuds which should vastly improve the experience.
Along with that huge boost to sound, it also looks likely that the new AirPods will get a rebooted design and a new charging case that should make finding them at the bottom of your bag a little easier. It's thought Apple will pack a small speaker inside the case which will belt out a bleep if you lose them.
This is very similar to Apple's AirTags tracker which is able to emit a sound once you tap the alert button in the Find app on your iPhone.
Kuo says he expects the new AirPods Pro to be revealed during the fourth quarter of the year – that means you should expect a bing unveiling during Apple's usual iPhone event in September.
So, if you want the latest-and-greatest from Apple, love the idea of listening to lossless audio quality on-the-move, or are constantly misplacing your AirPods… it might be worth holding off a few more months and spending your cash on the new models when they launch.
Published at Tue, 04 Jan 2022 12:38:00 +0000
AirPods Pro: Why today is the best and worst time to buy Apple's wireless earbuds