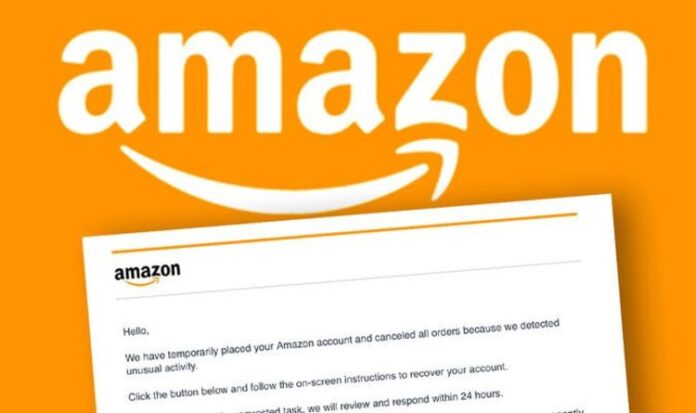 If you get an email from Amazon this week you need to be on high alert. The online retailer is being targeted by scammers who are using the popularity of the brand to try and trick customers into handing over personal details including full user names and passwords. The nasty hack, which has been spotted by Express.co.uk, claims that Amazon users are about to be locked out of their accounts permanently due to suspicious activity.
The message then urges customers to click a link within three days to complete an "account recovery" or risk losing total access to the platform. That's a pretty scary warning and it's easy to see why some might be tempted to do what they are being told.
The full message reads, "Hello, We have temporarily placed your Amazon account and cancelled all orders because we detected unusual activity.
"Click the button below and follow the on-screen instructions to recover your account. After you complete the requested task, we will review and respond within 24 hours. If you don't complete account recovery within 3 days, we will lock your amazon account permanently. We apologize for any inconvenience this may have caused."
This is then followed by an orange box that asks users to "Sign-in to Amazon".
If you receive this email, it's vital to delete it without delay.
Explaining more about scams and what to watch out for Amazon said in post on its security pages: "Spoof or phishing emails are fraudulent emails attempting to get your personal information. They are generally made to look like they are coming from Amazon."
If you receive an e-mail claiming to be from Amazon, and you suspect it is a spoof or phishing e-mail, here are some things you can look out for:
• Amazon will never ask for personal information to be supplied by e-mail.
• Amazon will never request to update payment information that is not linked to an Amazon order you placed or an Amazon service you subscribed to.
Published at Sun, 03 Apr 2022 06:31:00 +0000
Amazon scam threatens to permanently lock your account and it's easy to be fooled