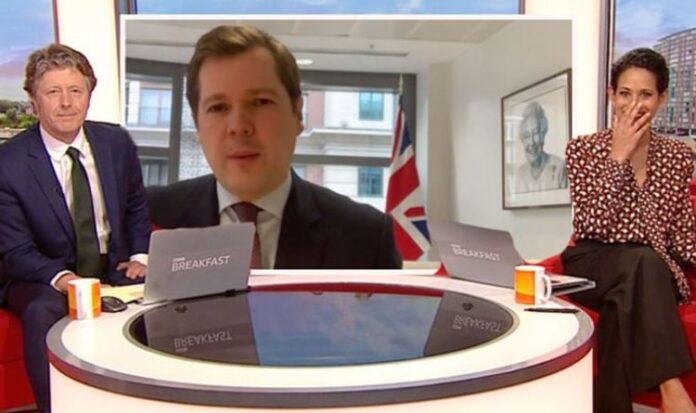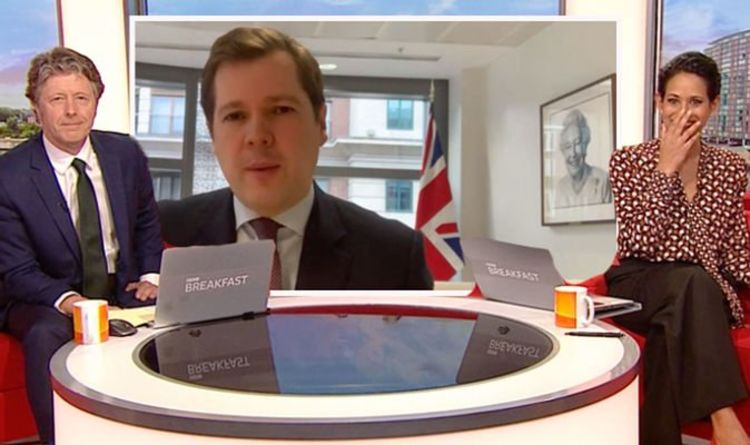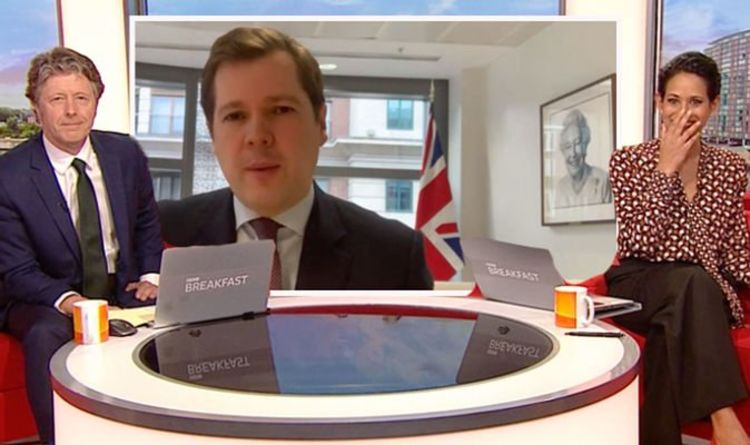 Mr Stayt, 58, and Ms Munchetty, 46, were on hand to host Thursday's edition of BBC Breakfast and spoke with Secretary of State for Housing, Communities and Local Government Mr Jenrick, 39, about a reported delay in the UK's coronavirus vaccination programme. However, it was the Union Jack flag that caught the presenters' attention at the end of the interview and Stayt ended up making a sarcastic quip about the patriotic emblem in the background of the picture. The BBC journalist and his co-star then made several jibes, including one about the Queen and taking to Twitter, viewers were not happy.
Speaking to the Government minister, Stayt said: "I think your flag is not up to standard size government interview…measurements.
"I think it's just a little bit small. But that's your department really," he quipped, with Munchetty giggling in the background.
Munchetty added she had also seen a picture of Her Majesty in the shot with Jenrick as she continued to laugh.
Though her co-star interjected as he tried to explain himself, telling viewers the Union Jack has become a prominent feature in interviews with politicians.
Taking to social media, those watching at home weren't impressed, despite an explanation, with one writing: "Laughing at someone because they have our country's flag and a picture of our monarch at home? Disgusting, pretentious and smug!"
READ MORE: BBC hit back at complaints over Meghan and Harry coverage
Another added: "When will you stop attempting to undermine our country. A new low. Disgraceful behaviour. Who do you think you are?"
Whilst a third remarked: "I love the fact Jenrick didn't respond to Charlie's bait about the flag. Charlie didn't get a rise out of him on anything else so he tried to get him on the flag and failed."
"Normal service at #BBCBreakfast – sneering at the Union flag," a fourth viewer commented on the social media platform.
"Charlie Stayt's comments on @BBCBreakfast regarding Robert Jenrick's Union Flag were not in the slightest amusing. Perhaps he might like to apologise? His later attempts at humour with a later guest were similarly uncalled for and cringe-worthy. #BBCBreakfast," a fifth opined.
Not everyone was so opposed to the jibes as a sixth shared: "This has made my day. Thanks, Charlie!"
MORE TO FOLLOW…
Published at Thu, 18 Mar 2021 17:21:00 +0000
BBC Breakfast 'disgraceful!' Charlie and Naga blasted for 'sneering' Union Jack and Queen