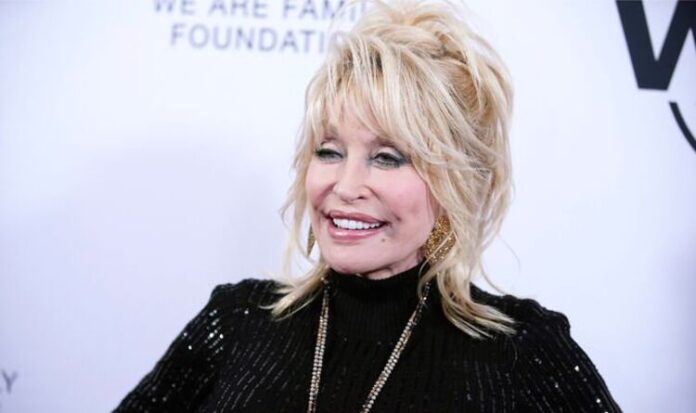 As if penning more than 100 New York Times Best Seller books were not enough, Dolly Parton has now released a new novel with the help of author James Patterson. Today, on International Woman's Day, Dolly released Run Rose Run. And during an interview on BBC One's The One Show, she was asked about her own inspirations.
With International Woman's Day in mind, Dolly was asked who her role models were through the years. She laughed: "Well I have many role models! I'm impressed by any strong woman that's willing to stand up on their own and stand up for what they believe and try to make a difference."
However, she was quick to note that it was not just women that inspired her.
Dolly said: "I think it shouldn't – I don't think it matters if you're a man or woman, you should be allowed to do what you do best. We're all out there trying to make life better, but I'm all for all those wonderful strong women out there."
The 76-year-old then revealed she has also written a new song to act as an anthem for women. The track comes from Run Rose Run's companion album, a record that was written and recorded by Dolly to coincide with the book's release. Dolly revealed the song is called "Woman Up and Take it Like a Man".
READ MORE: Dolly Parton's turning down Elvis worked out thanks to Whitney Houston
Dolly's new book, Run Rose Run, tells the heartwarming tale of a young woman trying to make her way in the music industry of Nashville. She teamed up with Patterson for the novel, who has written hundreds of books.
Speaking about the story in a recent interview, she said: "He'd give me ideas for the songs. I gave him ideas that he expanded on for the characters and incorporated in the book. So it really was a magical team."
Patterson added: "We liked each other right away. And we kind of made the deal right there — no lawyers. We didn't want anybody in the way."
Parton's new novel, which tells of a young woman fighting to make her mark in the music industry, has somewhat been inspired by her own life story. She added: "I would never, ever tell somebody not to follow their dream. I would just say, 'If you're dead serious about what you're doing, you got to buckle up and take it. You've got to sacrifice as far as you can and compromise, but don't ever sacrifice your soul and your principles and your values.' That's where [the book's character] Ruthanna and I differ. I would never tell a young person not to follow their dream because I would crush somebody. Even if they weren't that talented, I wouldn't tell them that."
Published at Tue, 08 Mar 2022 21:49:40 +0000
Dolly Parton opens up on her 'many role models'