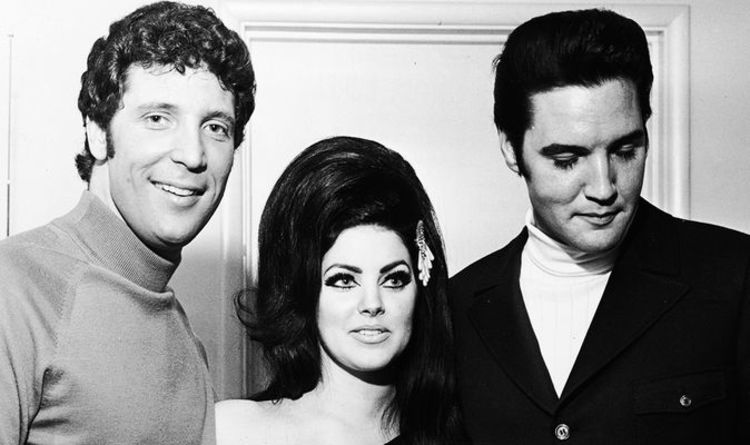 Elvis Presley: Tom Jones 'RIDICULED The King's singing' behind his back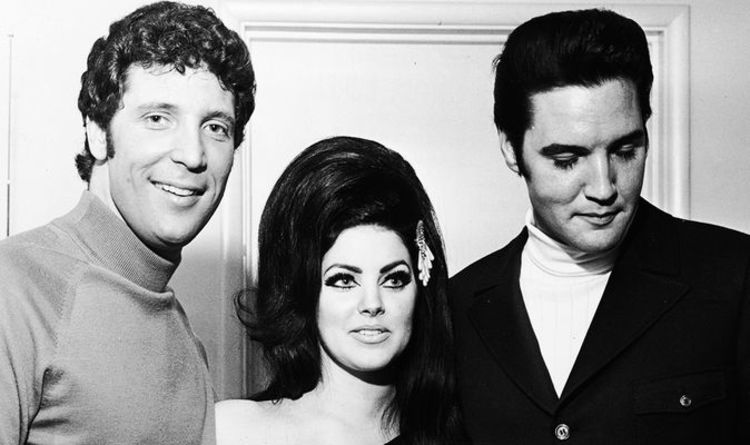 They have two of the greatest voices in the history of popular music. Both were also major sex symbols to their adoring fans and both enjoyed hugely successful runs in Las Vegas. Elvis actually approached Tom Jones at a TV special in 1965 when the Sex Bomb star was just starting out his career and their friendship grew over the years. Sir Tom has even remained close to Elvis' ex wife Priscilla, more than forty years after his fellow superstar died at 42.
Sir Tom embarked on a wildly successful Vegas career in 1967 with his first engagement at The Flamingo. He would perform at least a week in Vegas every year until 2011. It was hugely lucrative and he was such a draw, stars like Liberace, Dionne Warwicke, Debbie Reynolds and Joan Rivers attended his birthday parties there.
Sir Tom's success was one of the reasons Elvis also decided to revive his flagging career in the late 1960s by headlining the newly opened International Hotel in 1969.
The pair would notoriously party late into the night in hotel suites, accompanied by alcohol and adoring women, although better behaviour was ensured whenever their wives were around.
Elvis' lifelong friend and core member of the Memphis Mafia, Jerry Schilling, paid tribute to their friendship: "Elvis didn't really hang out with other entertainers that much, but if there was one artist that Elvis truly called a friend and hung out with the most, it was Sir Tom Jones.
READ MORE: Elvis: His final hour and desperate attempts to revive him
Schilling added: "Elvis was always cautious about letting people get close and what their intentions were… But he was inspired by Tom and they became very good friends.
"We would all get together at a friend's house and they would sing songs at the end of the night. Tom liked to sing Elvis' One Night With You.
"They even went on vacation together to Hawaii and spent lots of time together in Las Vegas."
Journalist and publicist Chris Hutchins was friends with both stars and handled PR for Sir Tom's Vegas shows in 1968.
He revealed what Sir Tom really thought of Elvis behind-the-scenes.
SCROLL DOWN TO WATCH A CLASSIC ELVIS PERFORMANCE IN LAS VEGAS
Hitchins said: "Elvis and Tom were frequently to be found partying in the Imperial Suite on the 30th floor of the Hilton, Elvis's home whenever he was in town.
"With four bedrooms, six bathrooms, a sauna, a dining room and a sunken living room, it was the scene of many legendary drinking sessions, but the friendship between Tom and Elvis was always tinged with more than a hint of professional rivalry.
"According to his bodyguard and friend Sonny West, Elvis often made quips about Tom's trademark skin-tight trousers. 'Does he stick a sock down there?' he was fond of asking.
"Whenever he was in the audience for one of Tom's shows, he'd jump on stage and join him for a spot of playful banter. This delighted the fans who got two superstars for the price of one, but Tom had no intention of letting Elvis share his limelight in an impromptu duet."
DON'T MISS
Elvis and John Lennon met in 1965 and it was a DISASTER
Elvis funeral: Lisa Marie's SECRET gift 'Can I give my daddy this?'
Elvis: 'NOBODY wanted him in the beginning' Dad Vernon shows PROOF they were all wrong
Hitchins described the lengths Sir Tom went to keep Elvis from upstaging him: "More than once, I heard him tell his stage crew: 'Hide the microphone. Presley's in.'
"Tom could also be disparaging about his friend's vocals.
"One night, we were watching Elvis perform at the Hilton. No longer able to hit all the high notes, he'd told us he sometimes just mimed the words while his backing group filled for him, and Tom was clearly unimpressed, saying: 'He's like a big chorus girl up there.'"
There are surprisingly few intimate photographs of the two superstars hanging out together and Sir Tom is unhappy about the most famous series, which were taken backstage with Priscilla in Vegas in 1971.
He said: "Somebody soon came up and asked to take a picture, and so there we were, arm-in-arm, Elvis looking all perfect, like, and me…"
Sir Tom described the scene: "He (Elvis) waves his hand up around his face as if to suggest the presence of a double chin… I hadn't straightened myself up properly, see? I looked awful. And in that picture, I always will. I bloody regret that and all."
Published at Tue, 13 Oct 2020 05:07:00 +0000