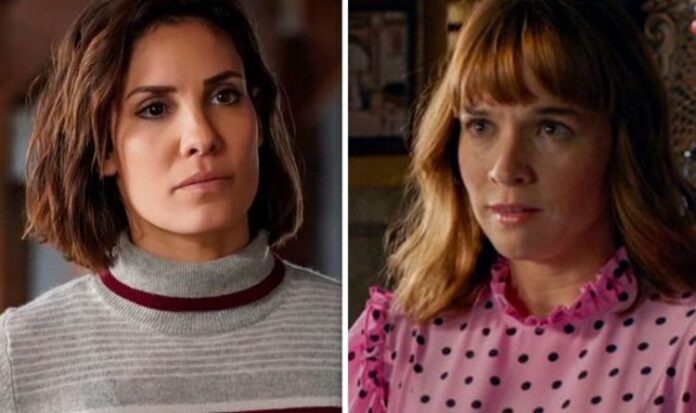 There's been no shortage of hard-hitting storylines so far in NCIS: LA season 12, from Marty Deeks (played by Eric Christian Olsen) losing his job to the kidnap of Sam Hanna's (LL Cool J) daughter. However, in a series of adorable clips to one another on Instagram, Kensi Blye star Daniela Ruah and Nell Jones actor Renee Felice Smith have teased their characters will be working closely together in the next few installments.
In a short series of clips complimenting her NCIS: LA co-star, Smith joked to her 161k Instagram followers: "Daniela and I are starting a fan club for each other okay?
"It's called the Dani and Renee fan club or the Renee and Dani fan club and we're just gonna be being fans of each other and I think it's really cool.
"After we do scenes together – and we have a few really nice scenes coming up and we don't often get to do that."
The Nell Jones star didn't stop there as she heaped praise onto her colleague.
READ MORE: NCIS LA season 12: Sam's daughter Kam 'set up' own kidnapping?
"So it's been a really special treat especially for me because I get to watch her work and she is like an actual genius person who can do anything I'm pretty sure,
Smith concluded: "So this is the beginning of the Dani/Renee, Renee/Dani fan club where we fan girl about each other."
Reciprocating the kind words of her NCIS: LA co-star, Ruah shared a few clips of her own.
And she too detailed how Nell and Kensi's future on the show will see them spending much more time together.
So what is it the two could find themselves working so closely together on?
Well, there are plenty of cases about to land on the OSP's dead.
And arguably most pressing is the kidnapping of Sam's daughter Kam (Kayla Smith).
The promo for the next episode hints Callen and Sam will pull out all the stops to track her down, from high-speed car chases to bone-crushing fights.
And beyond that, Callen will land in a rather tricky situation when he heads to Russia.
The synopsis for episode 11, which is Ruah's directorial debut on the show, confirms Callen will run into the arm of the law during his venture abroad.
But will he be freed with Nell and Kensi's help? Or do the two have something else up their sleeves?
NCIS: LA returns to CBS on February 14.
Published at Sat, 13 Feb 2021 02:01:00 +0000
NCIS LA season 12: Daniela Ruah and Renee Felice Smith tease huge Kensi and Nell storyline