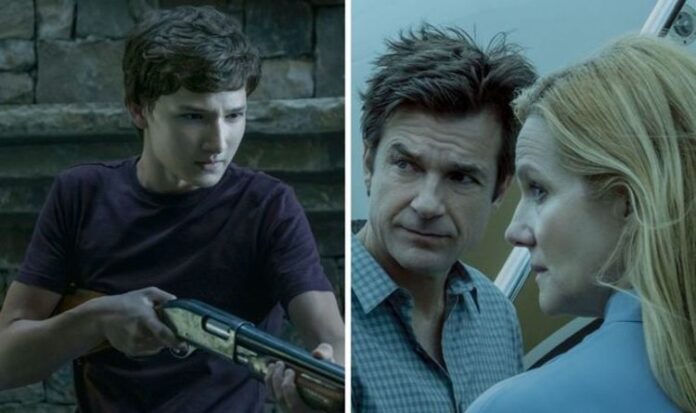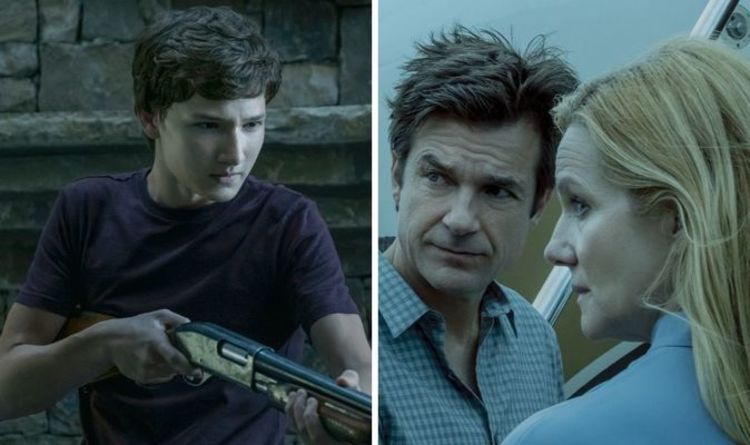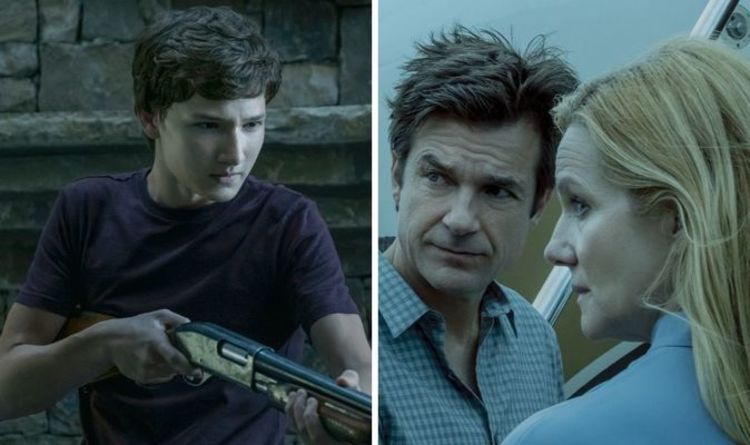 Netflix's popular cartel drama will soon bring the story of Wendy (played by Laura Linney) and Marty Byrde (Jason Bateman) to a close. With the fourth season of Ozark set to conclude filming this September, some unearthed clues from the very first episodes may have revealed what's in store.
Wendy and Marty Byrde's son Jonah (Skylar Gaertner) could play a major part in bringing Ozark's fourth and final season to a close.
The long-awaited conclusion to the Byrdes' story is expected to get underway at the start of 2022.
Filming is currently taking place in Atlanta for the show's conclusion, which will consist of 14 episodes split into two parts.
In the ongoing hiatus, fans have been speculating what's next for the Byrdes after they struck up an uneasy alliance with cartel boss Omar Navarro (Felix Solis).
READ MORE: Ozark season 4: Jonah to cut ties with parents as star hints at exit?
Some viewers are convinced the Byrdes are destined to meet a sticky end by the series finale, and have been debating who will be pulling the trigger.
At the end of the latest instalment, Jonah discovered that his mother had put a hit out on her own brother, Ben Davis (Tom Pelphrey), when he started revealing crucial info about Wendy's operation.
Shocked at the revelations, Jonah seems to be harbouring violent thoughts against his parents as he blasted the windows of their house with a shotgun.
Now, a recent theory has tipped the Byrdes' own son as their eventual downfall.
Thanks to the Byrdes' symbolic surname, this fan believed this key scene could be a metaphor for predicting the storyline of the whole series.
They continued: "The Byrdes are the starlings. They're an invasive species growing out of control and made everything worse for the Ozarks."
As their name is a homophone for 'bird', Wendy and Marty could be seen as an allegory for the invasive starlings, as they originally moved their family from Chicago to the Ozarks at the start of the series.
Now the Byrdes have started corrupting the area with their shady businesses and increasing involvement with the Mexican cartels, it could be up to either the locals or their own son to drive them out.
Finally, the fan added: "After Wendy ordered the hit on Ben, Jonah realizes that his parents are the real enemy, or invasive species, so he needs to get rid of them."
Although he didn't pull the trigger, Jonah has proved himself capable of violence when he threatened Helen Pierce (Janet McTeer) with a shotgun.
However, now the Byrdes have Navarro and the cartel on their side, it might take more than their disappointed son to take them down.
Ozark seasons 1-3 are available to stream on Netflix.
Published at Tue, 18 May 2021 01:25:25 +0000
Ozark season 4: Jonah Byrde to kill his parents as fans expose season 1 clue